We are an official CAME dealer. CAME is Europe's leading manufacturer of automatic gate, door and parking control systems. The success of CAME is founded on the quality of their products, their innovative and pleasant design, incorporating the latest technological advancements for performance, safety and control. Company and its products meet high quality and safety standards (ie. ISO 9001:2000).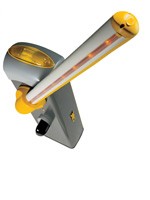 GARD 4
The automatic barrier that combines design and safety
Automatic road barrier for openings up to 3.75 m.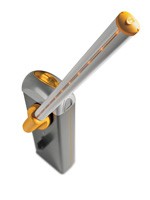 GARD 8
The barrier for large openings for industrial and public use
Automatic road barrier for openings up to 7.6 m.
.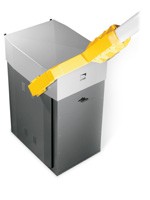 GARD 12
Gard 12 is an automatic barrier that is really out of the ordinary
Automatic barrier that makes it possible to open and close a 12-metre opening in just 10 seconds, as often required in industrial installations.
---
Series CAT – Automatic chain barriers
The CAME project, unique and patented, that has great use in the delimitation of private and public parking, with one or more car parking spaces. The chain barrier is also the ideal solution for delimitation of areas or parking lots where you want to prevent use by unauthorised personnel or at prohibited times, such as shopping centres, offices, banks.
CAT:
Automatic chain barrier.
Design that complements any architectural context for openings up to 16 m; ideal for public or private parking facilities or to prevent access for pedestrian or limited traffic areas.
Characteristics:
In the event of a power failure and for all emergency situations, the special security padlock allows the immediate release of the chain.
Control panel built into the unit.
Mechanical limit switches for easy-to-adjust opening and closing.
"No self-hold" command that requires continuous pressure on the button for the whole manoeuvre.
Detecting the nearby obstacles by a special electrical system.
---
Seria UNIPARK – Automatyczna zapora do indywidualnych miejsc parkingowych
UNIPARK is an automatic barrier that enables reservation of a single parking space. It is an ideal solution for condominiums, working environments, public facilities and all other locations where it is intended to guard the parking space for the owners or authorised personnel. The radio transmitter is the most convenient method for the user, but the command logic accepts input of external devices and a complete range of CAME accessories, such as key or custom code selectors, proximity cards and much more.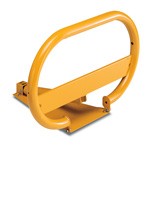 UNIPARK
Ideal for all environments where it is necessary to protect private or authorised personnel parking facilities. This solution also offers simple access to parking spaces with a single radio control operation.
Characteristics:
Easy to install in any condition thanks to the practical ground mounting base.
Comes in two basic models according to the width of the parking space.
Self-learning of the radio code from transmitter to receiver to facilitate radio control activation operations.
Up to a maximum of 4 Unipark devices can be connected to the same panel.
Stops movement if an obstacle is detected to ensure maximum operating safety.
---
Spike barriers
Spike barriers coupled with the barrier (painted or galvanized), one-way (painted or galvanized) and automatic (galvanized) are available. Every type contains variants for cars and trucks of acceptable pressure till 8 tones per axle.

Characteristics:
Two-side spike barrier combined with a standard barrier will assure you, that no unwanted guest will get through your driveway.
Spike barrier is a welded and galvanized construction, made from profiles and sheet metal with 6 mm weight.
---
Manual parking barrier

Characteristics:
If the barrier controlled with a pilot is not for you, the alternative is a simple manual parking barrier system. You can block a parking space with a low cost. Personal key and quick latch lock will give you a assurence of a free space for you.
---

In sale we have also barriers from NICE.
NICE company was founded 18 years ago and is a leading producer of complex automatic systems for gates, rollers and garage doors. Innovative concept, usefullness, the newest technology and revolutionary design.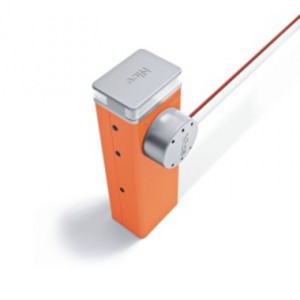 BARD
New family of barriers allows to control the usage of parkings, schools, institutions or industrial spaces. They are designed for intensive work.
Characteristics:
Available in 5 models in 3 versions and 7 module arms from 3 to 7 metres.
Steel cover secured by a electrophoretic painting.
Modern aluminium cover with a possibility of adding a lamp or semaphores.
Photoelectric cell and clutching system available for installing in barriers case.