Polish company WIŚNIOWSKI offers modern sectional doors for industrial buildings, food industry buildings, warehouses and other rooms of this type. Gates can be equipped with a small entrance wicket to simplify communication among employees.
Also, safe roller doors are perfect for rooms with little space. Industrial suspended doors are another option.
Sectional gates
Characteristics:
Solid construction with specially profiled panels
Burglarproof protection and cable break safety device
4 models of steel doors and 3 models of aluminium gates
Choose between 200 colours and change the surface texture
Obstacle sensor  by a special electrical system
Garage doors for any production hall
Opening of industrial sectional doors does not require free space in front of the hall. The sectional door curtain rises vertically upwards according to the type of the track system applied.
Roller-Shutter Doors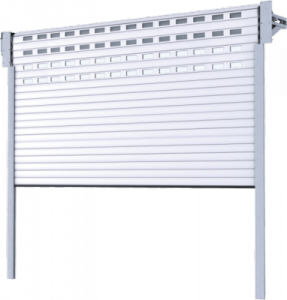 Modern doors designed for demanding clients.
Characteristics:
Roller-Shutter Doors with new options of montage: on outside in box or inside and part cover
Emergency door opening with a crank and transmission
Roller-Shutter Door is the only door equipped with drive unit as standard
Choose between 200 colours and change the surface texture
To illuminate a dark room it is worth considering a door with glazed profiles.
Ventilation profiles provide natural ventilation, which allows the exchange of air indoors.
Suspended sliding doors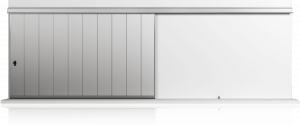 Suspended sliding doors SlidePro
Legit construction of doors in modified version was adjusted to the new wing, made from panels used to produce sectional doors wings. With this SlidePro looks very modern, has higher endurance and very good termoisolation.
Characteristics:
Not complicated montage allows easy and steady door work.
Available in one and two-winged version
You can insulate it, install a support door.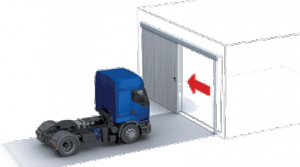 Required driveway length
Industrial suspended sliding doors provide a simple solution in the halls with limited development possibilities.
They are especially recommended for wide openings.
Folding Doors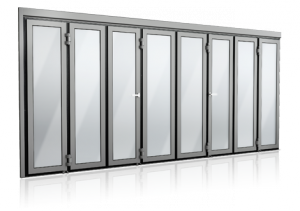 WIŚNIOWSKI folding doors – symbol of luxury
Folding doors are designed for showrooms, airports, exhibitions and modern buildings, where style and elegance bend with reliability and functionality.Maximum drive-through width 14000 x 6000 [mm]
Cechy charakterystyczne:
Part of the package is fixing elements, bottom guide rail, top rail and also rebate gaskets, brush seals
Door is available in manual and power-operating version
Choose between 200 colours and change the surface texture
Reloading systems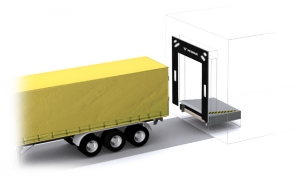 WIŚNIOWSKI loading systems – new level of quality
Dock shelters offered by WIŚNIOWSKI are distinguished with durability and good performance characteristics. Dock shelters assist in the reduction of energy consumption, protect the goods and contribute to an improved workplace.
Characteristics:
Safe and precise vehicle docking at the place of loading is ensured by wheel guides.
Wheel guides provide for precise vehicle docking, and eliminate possibility of loading system, warehouse and vehicle damage.
Bumpers provide additional protection of the loading station and vehicle against damages.
Choose between 200 colours and change the surface texture
Dock Levellers
Dock levellers are designed to bridge the difference in height between the warehouse and the vehicle.We offer two types of dock levellers:
PowerRamp 232 NG – electro-hydraulic dock leveller with hinged lip
PowerRamp 233 NG – electro-hydraulic dock leveller with telescopic lip
Additional materials (pdf):
– katalog: Bramy przemysłowe [look at/download]
More information about Wisniowski – Industrial gates HERE.